Welcome to the Lewes Darts League website
Coming to an oche near you... the 2022 Summer Charity Darts League
With 5 teams registered the Summer Charity Darts League started on Tuesday 31st May - the rota can be found on the following link, or you can browse through the results (so far) on the Summer League tab...

The 2022/23 Season...
After the optimism, the practicality of what lies ahead, so the revised date for the 2022/23 Lewes Darts League AGM has been set for
Tuesday 19th July 2022, at St Mary's
In a change from tradition, the AGM will start at 8pm, and team sign-ups will take place AFTER the meeting closes - there are a couple of reasons for this change, will which become apparent in due course.
The committee is painfully low on numbers at the moment, and there are a range of roles looking for suitable candidates to take over the shoes of their predecessors... experience isn't necessary but a sense of humour is ;0)
League Finals & Presentation Night - Friday 6th May at St Mary's
It's done, dusted, finito... all* of the competitions have been played to a finish, trophies collected, speeches made, raffle drawn, alcohol consumed... it's that long ago now that the tables have been cleaned and the floors hoovered!
Thanks to those that came along to participate, or support, the event...

Pictured below the victorious Brewers team parading the League trophy, I tried, but no amount of filters made it look remotely decent, so here's the image in it's rough (very rough) format...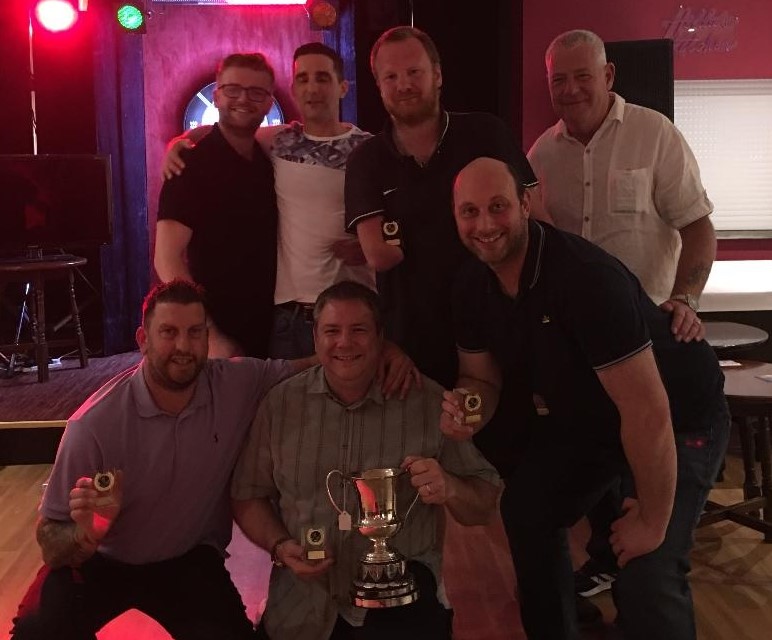 * - well, to be fair, all those that we could play!
2021/2022 Season
the 2021/2022 season...

The League matches are over, finished, done, and in a nail-biter until the end, the Brewers finally secured the League on game difference, having tied on points with The Dorset.
Congratulations to all concerned, and for all the teams which started the season having made it, just about, to the end...

...
<< last updated 29th June 2022 >>

If you spot any mistakes (there have been a few!), or there is something you might like on the site, please let me know and I will see what I can do.
The League is kindly sponsored by: